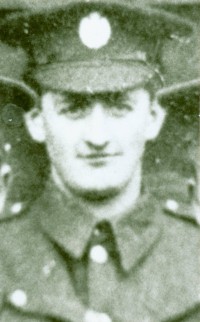 John Dutton was born in Hartford in 1893 and moved to Moore with his parents, William and Martha. he had two brothers and a sister – Charles Henry b1889, William b1891 and Annie b1898.
Both father and son worked on the railway for the L&NW railway company. John was a clerk in the stationmaster's office at Warrington for some years and later moved to Bolton station. His father was a platelayer.
In 1911, the family was living in Lawton's Cottages, Runcorn Road. John married Lena Turner in 1916 and was called up the following year.
He joined the railway section of the Royal Engineers on 1 January 1917 and completed a short training at Longmore Camp in Hampshire. He was sent to the front on 20th February, but just over a month later, on 31 March, his family received the news that he was seriously ill with pneumonia and pleurisy.
He seemed to improve and was sent to Colchester Hospital towards the end of April. After a fortnight he suffered a second bout of pneumonia and his wife and family were sent for on 10 May. Sadly, he didn't recover and died two days later.
John was buried at all Saints, Daresbury on 17 May 1917. The account in the Warrington Guardian describes the many beautiful floral tributes from relatives and friends, as well as the station staff at Warrington and the goods department and station staff at Bolton.
'In Loving Memory of John Dutton,
sapper R.O.C.R.E.
beloved husband of Lena Dutton
died May 12 1917, aged 24 years'