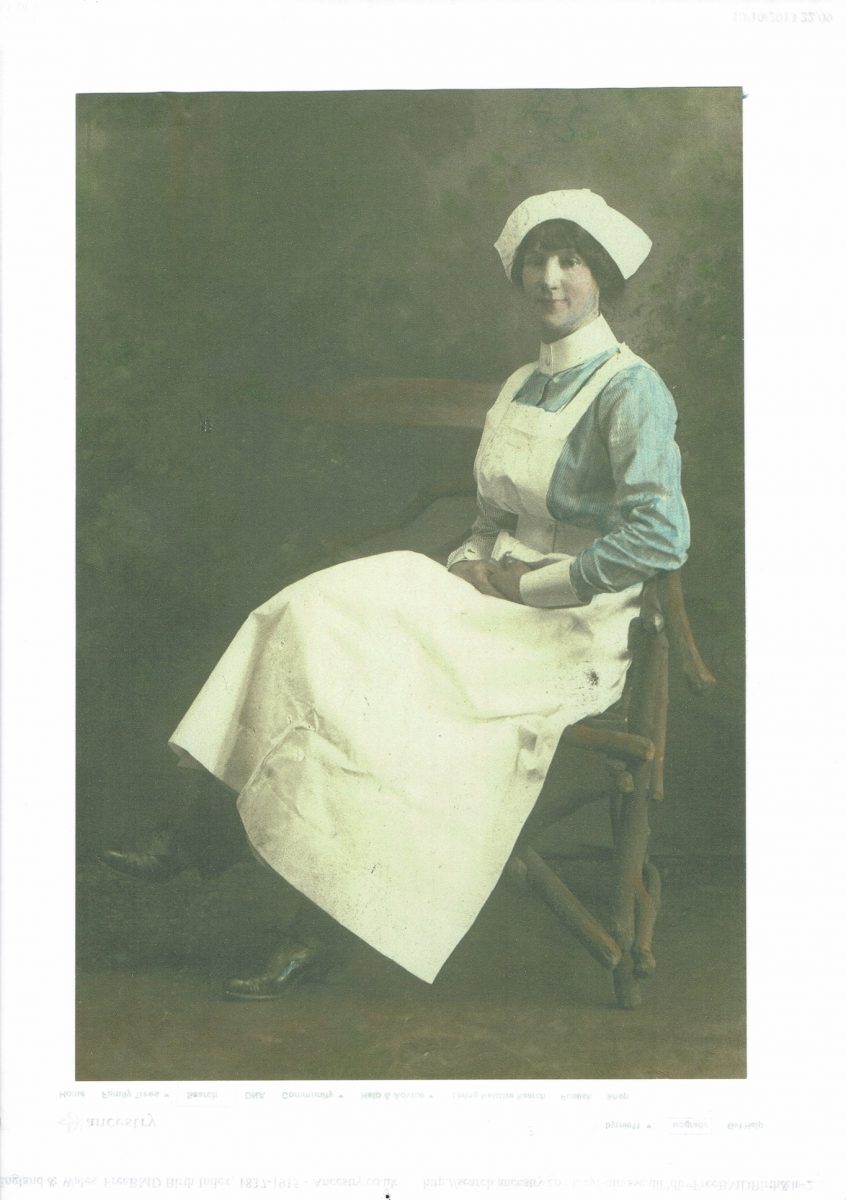 Mabel was born in Halton Road in Runcorn in August 1879, the fourth child of William Richard and Emma Earp (nee Armstrong born in 1848 in Camberwell London).  Her three elder siblings were born in Tunstall Staffordshire, Ethel Mary in 1873, William in 1874 and Rowland in 1876. Mabel was christened in Halton on 25th September.
Her father was a chemical manufacturer and in 1886 he acquired the tanning business in Preston Brook. W.R. Earp and Co also manufactured tanners oils and grease.
In 1881 when Mabel was two, her sister Emma Kathleen was born but sadly her brother William known as Little Billy drowned in the canal at Runcorn in 1882.
In 1901 Mabel was an art student and her grandmother Mary Armstrong, a widow, was living with the family. 
She attended Stockton Lodge School for Ladies in Stockton Heath and later attended the Art Academy in Warrington.
When war broke out in 1914, she volunteered to work as a V.A.D. nurse in Oaklands Military Hospital in the old Bluecoat School which stood where the Daresbury Park Hotel stands now and Frodsham Auxiliary Hospital on Overton Hill, where she tended wounded soldiers sent home from the front line. Frodsham Military Hospital was established in 1915 and by 1918, 23 nurses were employed there. By 1919, 3400 wounded servicemen had been treated. Soldiers paid tribute to her nursing skills and wrote of the horrors they had seen and experienced in the trenches and beyond. Mabel took her sketch books to work and often painted or drew scenes described by the soldiers. Patients would often write poems or notes in her books. Fortunately her diaries and sketch books survived and portray a first-hand glimpse of the wounded soldiers' gratitude for the care and kindness they received in the military hospitals and of the horrors and hardships they had seen and endured during WW1.  
Mabel, aged 39 married George Bertram Leach on 7th February 1918. George was born in 1887 in Rochdale, went to Manchester Grammar School and became a civil engineer. In the First World War he was a Lieutenant in the Royal Engineers. He was wounded in the wrist and after the war went back to civil engineering. 
They went to Malaya in 1919.  Mabel and George had twins Dolly (Dorothy) and Billy (William) followed by Bob (Robert) and John. Her sister Ethel Mary sailed to Penang to help to look after Mabel's children. They returned to the U.K. in 1924.
In 1939 they were living in Smithy House, Ashton, near Chester. Mabel died on Christmas Eve in 1947 aged 68 and is buried in Ashton, West Cheshire. George died in 1976 aged 89.