The station existed for no more than a year, perhaps when the BCLJR did not have access to the old Warrington Bank Quay station. There is no sign of the station, Manchester Ship Canal alterations to the route and the electrification of the West Coast Mainline in the 1970's have removed any evidence. The picture below taken from Warrington Road looking towards Bellhouse Lane is possibly the site of the station.
Col Cobb's map shows the station site to have been on Bellhouse Lane; below is a sketch of its location from one of the other books.
If you can supply us with any information about this mysterious station, please let us know. Neither the disused stations website nor Wikipedia  acknowledge the existence of this station. After a trip to Crewe Library to look at three books, I have manage to find out a little more.
The books were:
C R Clinker Register of closed passenger stations and goods depots;
R J V Butt Directory of Railway Stations;
M E Quick Railway Passenger Stations in England and Wales;
plus Colonel  M H Cobb The Railways of Great Britain.
Walton Junction Station was temporary, the Bradshaw's of the time only refers to it for a very short period of time as can be seen below. It appears to have opened 5 May 1857 and closed 15 October 1857 which coincide with the dates for the Manchester Art Treasures Exhibition. The station is reported in Bradshaw May to October (inclusive) on a table from the Exhibition to Chester.
.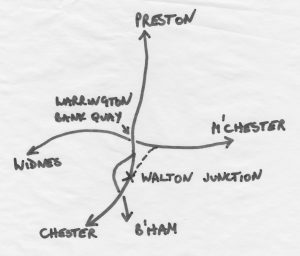 The Regional History fo Great Britain volume X states that the Warrington Arpley to Chester service started 1 March 1958, passing through Walton Junction Station, but was hampered by legal action by the LNW as they did not want competition. The station appeared as the only intermediate stop in the Warrington and Stockport table in Bradshaw. Confusing; was it a special station for the Exhibition but it was in Bradshaw after it closed?
See also: