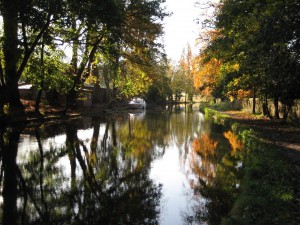 The Bridgewater Canal is 34 miles long, connecting Runcorn, Manchester and Leigh. The first section was commissioned by Francis Egerton, 3rd Duke of Bridgewater, to transport coal from his mines in Worsley to Manchester. It was opened in 1761 from Worsley to Manchester, and later extended from Manchester to Runcorn, and then from Worsley to Leigh.
The canal is connected to the Manchester Ship Canal via a lock at Cornbrook; to the Rochdale Canal in Manchester; to the Trent and Mersey Canal at Preston Brook, southeast of Runcorn; and to the Leeds and Liverpool Canal at Leigh. It once connected with the River Mersey at Runcorn but has since been cut off by a slip road to the Silver Jubilee Bridge.
Often considered to be the first "true" canal in England, it required the construction of an aqueduct to cross the River Irwell, one of the first of its kind. Its success helped inspire a period of intense canal building in Britain. Navigable throughout its history, it is one of the few canals in Britain not to have been nationalised, and remains privately owned. Pleasure craft now use the canal which forms part of the Cheshire Ring network of canals.
There is a section that goes through Preston Brook and into the tunnel. The end on junction with the Trent and Mersey Canal is 11 yards inside from this entrance.
Source: Wikipedia
Click here for more information from Wikipedia
---
See also: