Many of you will have enjoyed walking over 'The Firs' – otherwise known as Keckwick Hill. This area of land has been wooded for hundreds of years. The first reference I have found dates back to 1329, when Hugh de Dutton's son, gave timber from the woodland to Norton Priory, so that the mill at Keckwick could be repaired.
No other mention of this mill has been found, but it would either have been a water mill, sited somewhere along Keckwick Brook, or a windmill, sited on top of Keckwick Hill.
There were three separate quarries on the hill, two near Keckwick Lane and the other at the western edge at Daresbury Delph. Fine sandstone was quarried here. Some was used for the tower of All Saint's.
The trees were mostly cut down in 1910 because they had died, allegedly from 'the foul fumes from Runcorn and Widnes'. The current plantation of Scots, Corsican and Lodgepole pines was planted as a commercial crop in 1978.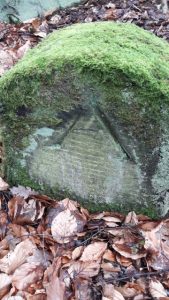 The stone in the picture on the right is a boundary stone between Daresbury and Keckwick townships. They were called 'meer stones' and apart from others on Halton Hill and at Astmoor, we know of no others in Cheshire! We are unsure of its date, but nine of them are marked on the 1881 map and so far, we have found eight of them. The letter A is clearly made by a stonemason. It may have been his initial, or that of the local landowner. This has had us puzzled, but at one time, the Aston family owned extensive land in the area.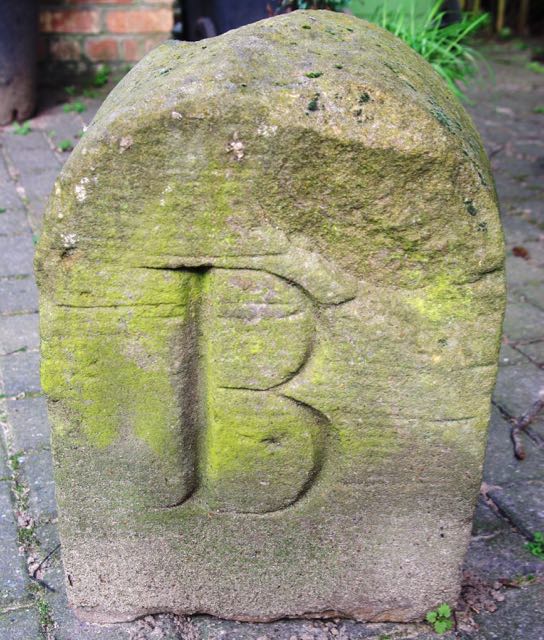 We also know of a similar stone, this time with a 'B' inscribed onto it, but in exactly the same style; this is in a garden in Canalside, Moore. It has probably been moved from its original position – two are marked on the OS map of 1881 in this area. Sir Richard Brooke owned land in this area, so the 'B' may relate to him.
If I am right in assuming that the letters 'A' and 'B' on the meerstones in the parish, which I've mentioned previously, I can now be more specific about dates.
The township of Keckwick had been owned by the Dutton family since the 12th or 13th centuries. It was awarded to the Aston family by Henry VIII in 1534, when Margaret Dutton, daughter of Sir Thomas Dutton, married Thomas Aston. The township was sold to Sir Richard Brooke early in the 19th century. Thus the earliest date for the stones bearing a letter 'A' would be the mid 16th century and that of those bearing a 'B', the early 19th century………….of course, I may be completely wrong, but all other ideas gratefully accepted!!!!