Harold Antrobus was born in Moore in 1910 to William and Elizabeth Antrobus, nee Done, of Hatton. Harold had a younger sister Ethel born in 1912. Harold first appears on the 1911 census aged just three months old. Born prematurely he was not expected to survive and was baptised at home before being welcomed into All Saints Church, Daresbury the following July.
Around 1930, Harold met Edith Dutton at a Moore and Daresbury Cricket Club afternoon tea, held at 'The Willows' in Moore where Edith was in service. They married in 1937 and had three daughters.
At the outbreak of war, Harold and Edith were living on Eastford Road, Lower Walton. Under the advice of his father
William, who told him to sign up early to ensure a better job, Harold enlisted and was posted to The Army Dental Corps as a dental assistant. We know Harold served in Egypt, Tiberias and Nazareth in Israel. For much of the war Harold was away from Edith and two daughters. Post war Harold returned to the family painting and decorating business he ran with his father.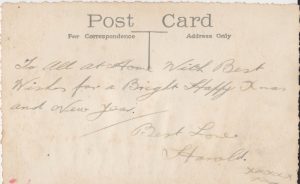 In 1952 Harold and Edith moved back to Moore, now with three daughters, and resided on Runcorn Road. 
Harold died in 1996 aged 85. His funeral was held at Moore Chapel nine days later. Harold was an active member of the chapel and a clock was donated by the family in memory of his life and service to the chapel.