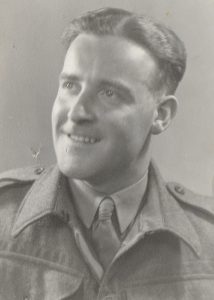 Albert Frederick Harrison (known as Fred) was born in 1915 at Hatton, the third son of John Harrison and Mary Elizabeth Harrison (nee Cliffe).  John Harrison was born at Over Kellett near Carnforth in Lancashire and Mary Elizabeth was from Hatton.  The Harrisons lived firstly in Hatton and then moved to Southworth-with-Croft near Culcheth, where the father worked as a stud groom.  By 1910 they had moved back to Hatton.  John and Mary Elizabeth would eventually have ten children, five boys and five girls. 
After leaving school Fred trained as a butcher and continued to live at home in Hatton with his parents and his younger siblings, Vincent, Alfred Raymond (Bill), and Elizabeth.  He also had two older brothers called John (Jack) and James (Jim) and four older sisters called Mary Agnes Florence, Evelyn, Alice Gertrude and Violet.  By the time war broke out in 1939, Fred was working as a grocer's assistant.  
He joined the Cheshire Regiment and was most likely in 2nd Battalion.  In June 1940 he was evacuated from Dunkirk in what was known as Operation Dynamo, when 800 vessels evacuated 338,226 soldiers from the beaches of Normandy.  The battalion then went on to fight in North Africa (1941-43) and in Sicily and Italy (1943-44).  He took part in the building of Mulberry harbours during the Allied Invasion of Normandy in May- June 1944.  These were temporary portable harbours which were developed by the United Kingdom in World War Two to facilitate the rapid offloading of cargo on to beaches.  
Fred had returned to Hatton by May 1945 and was living with his parents and younger siblings.
In late 1948 he married Vera Gladys Roberts of Penketh, who was twelve years younger than him.  They had one daughter.  Fred worked with his older brother John (Jack) Harrison at Jack's butcher's shop in Stockton Heath until his retirement.
Albert Frederick Harrison died in 2004 aged 88 years, fifteen years after Vera had passed away.